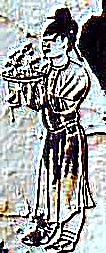 The following three poems are brought to you from a collection; held by

The Sun Yat-Sen Penjing Club, in Vancouver, BC, Canada.

For an explanation and to read more; we recommend that you contact and join them, through LINKAGE:

Ode to Penzai

" I love this sky-reaching trunk,

Transplanted here for spring's unique display,

When first it arrived with pure heart,

It's character began to impress.

In the evening a green haze descends,

Before the window colour made anew,

No birds nest beneath low branches,

No dust on pristine leaves.

Sometimes with orchid as companion - tranquillity,

Sometimes with rain and snow - modesty,

How fortunate to be cared for,

It is time to prosper and grow."

Qian Zhong Yang

Tang Dynasty ( 618 - 907 C.E )

Taihu Rock



" Colour suggests mist in late fall,

Markings resemble waves frozen to eternity.

Chipped into pieces of jade,

Green cloud cut free from it's root.

Wind flows through holes in rock,

Moss cradles the doorway.

Three miniature peaks are small,

Yet, they must be Huashan's grandson."

Bai Juyi

Tang Dynasty

Ode to the Emperor's Pomegranate Penjing

" Red dot on top of a small tree,

June is colourful with lotus-scented wind.



Coral flower heads amidst green mass,

As if it is silver sprinkled among gold."

Kangxi Emperor

Qing Dynasty ( 1644 - 1911 C.E )