" Lest our words become mere rote."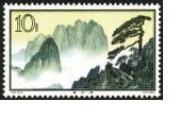 Mt. Huangshan

Farewell Pine

" With a blue line of mountains north of the wall and the east of the city, a white curve of water.

Here you must leave me and drift away like a loosened water-plant hundreds of miles...

I shall think of you in a floating cloud, so in the sunset, think of me.

..We wave our hands to say goodbye and my horse is neighing again and again."

Li Bai