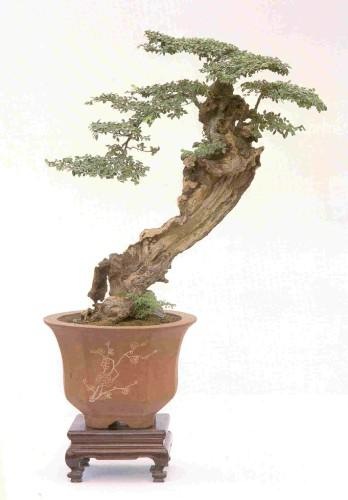 NORTHERN SU SCHOOLS & EASTERN SU SCHOOLS

Yangzhou - Styles include:
Platform, Ingenious or Delicate Cloud,

Pagoda & Three-Winding

Coiled & Dancing Dragon

WESTERN SU SCHOOLS

Six Platforms, Three Bases & One Top,

Tree Branches Overhanging a Cliff,

Split Trunk, Screen, Following the Wind,

Aslant & Supine, Erect with Spreading

Foliage, Phoenix & Crane on Pavilion and

Pagoda.

Zhejiang - Styles include:
Tall Trunk & Forest

Hanging Cliff

Flat-Top

Flat-Top

SICHUAN (CHUAN) SCHOOL

- Styles include:

Straight, Reclining & Slanting Trunk

Hanging Cliff & Earthworm

SOUTHERN SCHOOLS

Ancient Tree, Large or Tall Tree,

Towering Tree & Five-Tree

These six penjing schools, largely based on regional variations which emerged during the late Ming and Qing Dynasties, c.17th century;

are no longer a major influence and there is a return to the original free-spirited kinds of penjing traditionally created by scholars.

Their creations instead, reflected literati backgrounds and were never confined to rigid patterns, but rather sought expression emanating from Chinese paintings.